Photo Gallery — February / March 2005
IN THE CURRENT ISSUE OF BOWL MAGAZINE....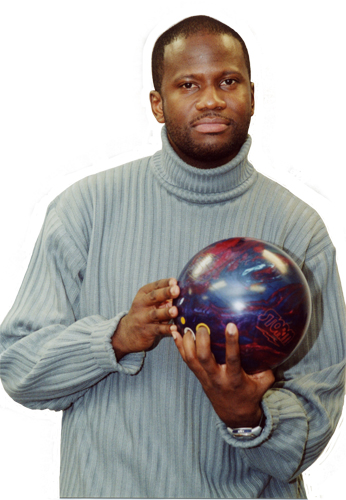 Hezekiah Dillahunt Jr., NCABA's 10th ranked bowler for 2003-2004, provides "The best bowling tip I've ever received."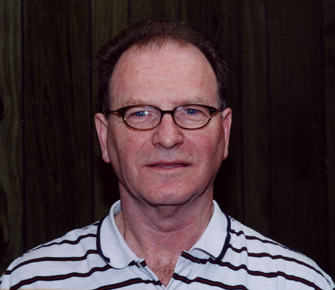 Jim Weyand, who won the 2004 PBA South Region Alexandria, Va., Senior Open at U.S. Bowling, is the subject of the "Mini-Bio."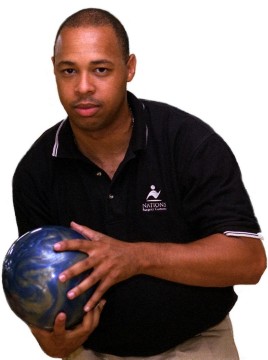 Eric Kearney tops the NCABA Awards listing with his 838 series in the Bottom Liners league at AMF Capital Plaza.




















---
ADDITIONAL IMAGES OF ALICE EDWINA MCGOVERN "MAC" O'KEEFE (1916-2004)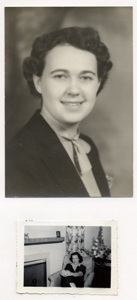 "Mac the WAC"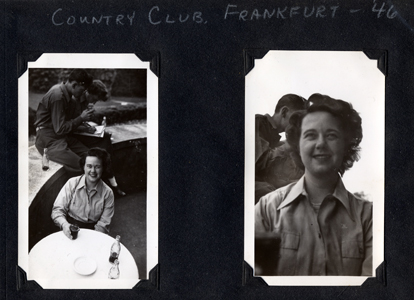 Frankfurt, Germany - 1946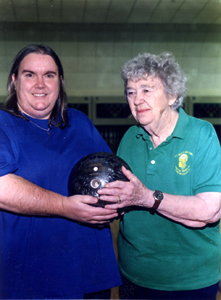 (right)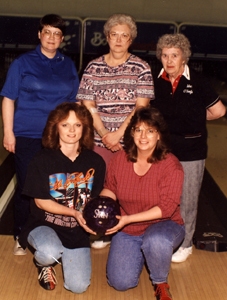 (top right)




















---
AT AMF SEMINARY....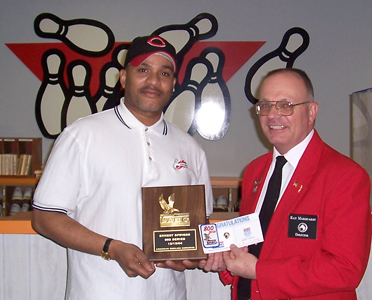 Ernest Spriggs (left), a member of the Pride of Alexandria Mixed league, received an ABC 800 Series engraved plaque, an ABC 800 Series emblem and card, and an NCABA 800 Series gold pin for his 802 series from Director Ray Marquardt.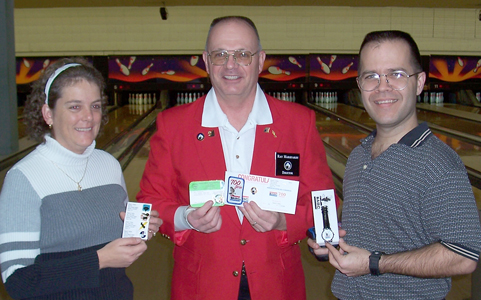 In the DISA Mixed Tenpin league with Director Marquardt presenting, Dana Rutan (left) received WIBC and WDCAWBA 500 Series Pins for her 523 series plus WIBC, VSWBA, and WDCAWBA 200 Game Pins for her 200. Meanwhile, her husband, Russ Rutan (right), received an ABC 700 Series emblem and card and an NCABA 700 Series gold pin for his 726 series plus an ABC Century Award watch (and soon, an NCABA 275 Game gold pin) for his 279 game.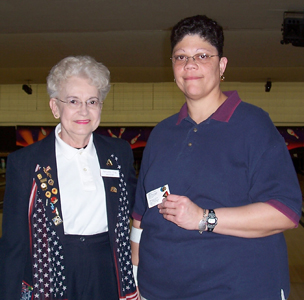 Sharman Dyson (right), another member of the DISA Mixed Tenpin league, received WIBC and WDCAWBA 600 Series pins for her 603 series from WDCAWBA President Bernadine King.




















---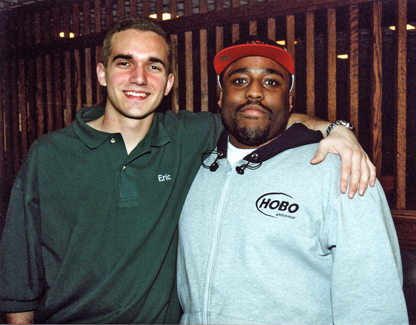 At the Vir-Mar-District Invitational finals at Bowl America Woodbridge, A Division finalist Eric Helmrich (left) appears with 2003 A Division champion Shaun Minick.


























Photo Gallery — November 2004

Photo Gallery — September 2004

Photo Gallery — Summer 2004

Photo Gallery — April/May 2004

Photo Gallery — February/March 2004

Photo Gallery — December 2003 / January 2004

Photo Gallery — October/November 2003

Photo Gallery — August/September 2003

Photo Gallery — Summer 2003

Photo Gallery — April/May 2003

Photo Gallery — February/March 2003