Photo Gallery — February/March 2004
IN THE CURRENT ISSUE OF BOWL MAGAZINE....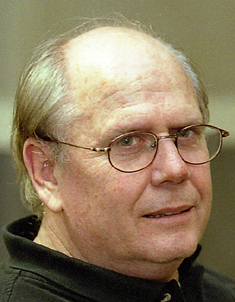 Hollis McMullen offers "The Best Bowling Tip I've Ever Received."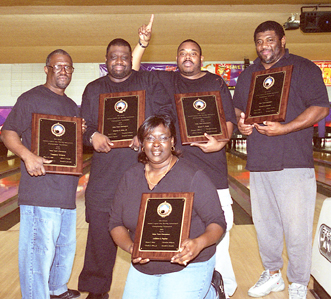 Members of "The Runners" will defend their 2003 team title at the upcoming NCABA Championship Tournament. From left, Theodore Williams, Shawn T. Moss, Charles E. Allen Jr., Ronald Edwards, and (front) LaShan E. Payton.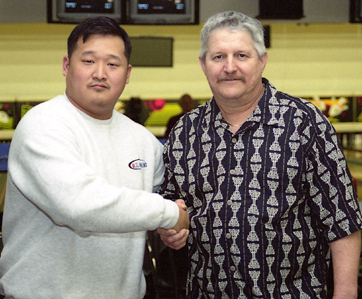 Jae Choi (left), general manager of U.S. Bowling, congratulates Pat Dineen, winner of the PBA South Region Senior Open.



















---
AT AMF WALDORF....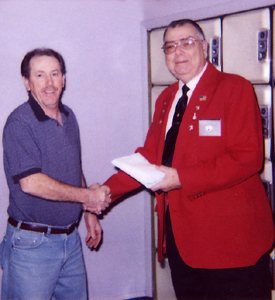 Gerald Roberts (left) receives ABC ring and NCABA gold pin for his perfect game.



















---
AT BOWL AMERICA DRANESVILLE....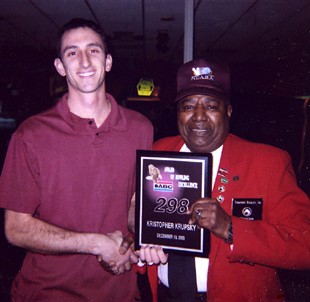 Kris Krupsky receives an ABC plaque for his 298 game from Director Timothy Bailey Sr.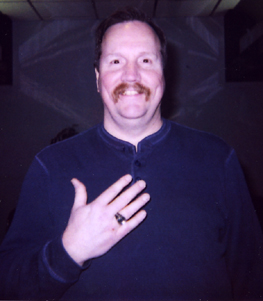 James Burt displays ABC ring for his 298 game. (Photos by Timothy Bailey Sr.)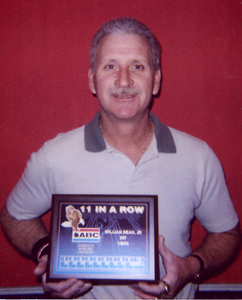 William F. Bean Jr. holds ABC 11 in a Row plaque for his 297 game.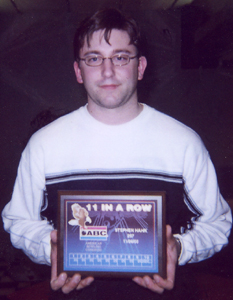 Stephen Hahn also recorded a 297 game.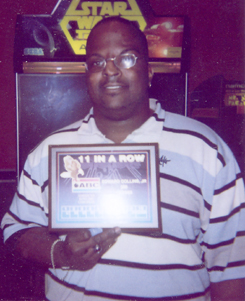 Edward Collins Jr. earned an ABC 11 in a Row plaque for his 290 game.



















---
AT AMF DALE CITY....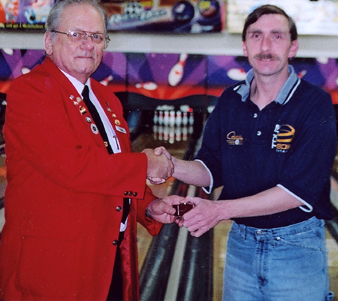 Chris Gutshall (right) receives an ABC ring for his fourth perfect game that was rolled in the Original Thursday league. Director Ted Gruszkowski Jr. makes the presentation.






















Photo Gallery — December 2003 / January 2004

Photo Gallery — October/November 2003

Photo Gallery — August/September 2003

Photo Gallery — Summer 2003

Photo Gallery — April/May 2003

Photo Gallery — February/March 2003