Category Archives:
Archive – 600 Club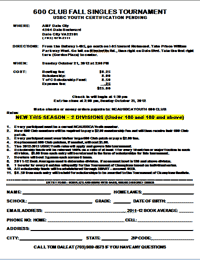 AMF Dale City Fall 2012 Singles
The first 600 Club tournament this season will be held next Sunday, October 21st at AMF Dale City at 2 pm.
Coaches – please share with all eligible bowlers. If you have new 600 Club eligible bowlers they can bowl and bring proof of their 600 series.
NEW THIS SEASON – 2 DIVISIONS (Under 180 and 180 and above)
The rules are as follows:
1. Every participant must be a current NCAUSBCA Youth member.
2. New 600 Club members will be required to pay a $2.00 membership fee and will then receive their 600 Club patch.
3. Every participant must wear his/her large 600 Club patch or pay a $2.00 fine.
4. Replacement 600 Club patches, if needed, will cost $5.00.
5. The 2012-2013 USBC Youth rules will apply and govern this tournament.
6. Scholarship funds will be returned 100% on a ratio of at least 1 for every 10 entries or major fraction in each division.
$8.00 from each entry will be returned in the form of scholarships for this tournament.
7. Bowlers will bowl 3 games each across 6 lanes.
8. 2011-12 Book Averages used to determine division. If none must bowl in 180 and above division.
9. 1 bowler for every 6 entries will qualify for the Tournament of Champions based on individual series.
10. All scholarship funds will be administered through SMART – account 9559.
11. $8.50 from each entry will be held for scholarships to be awarded to the Tournament of Champions finalists.
Bock / Salvacion win 600 Club Fall Singles Tournament
Donald Bock of Jeffersonton bowled a three-game series of 683 to win the 180 average and over division of the NCAUSBCA Youth 600 Club Fall Singles Tournament held at AMF Dale City on October 21st. Jan Salvacion of Springdale bowled a three-game series of 623 to win the under 180 average division. Bock and Salvacion each earned $100 in scholarship funds, which will be administered through the USBC SMART program. Daniel Edwards of Lorton bowled a 682 series in the 180 and above division and Deborah Epps of Fort Washington bowled a 620 series in the under 180 division to capture second place honors and both earned a $50 scholarship. Jimmy Dunseath of Haymarket, Alexa Cabotaje of Lanham and Joey Hansen of Woodbridge each bowled a 581 series to tie for third place in the under 180 division. Each bowler earned $30 in scholarship funds.
The following bowlers qualified for the Tournament of Champions, which will be held in March 24th: 1) Bock, 683; 2) Edwards, 682; 3) Conner Kolessides of Great Falls, 671; Jarrett DeFalco of Leesburg, 670; 5) Matt Bailey of Woodbridge, 663; and 6) Nick Dean of Alexandria, 660.
The next two 600 Club tournaments will be a doubles event on December 2nd at Bowl America Woodbridge and a singles event on December 16th at AMF Capital Plaza.
Any youth bowler who has bowled a certified 600 series in the NCAUSBCA Youth program is eligible for membership in the 600 Club. Any questions should be directed to Tom Dale, NCAUSBCA Youth 600 Club, 10 Hulvey Drive, Stafford, VA 22556-3816 (phone 703/989-8573).
High Games:
180 and Over Average Division
Game 1:
Malcolm James – 258
Donald Bock – 257
Game 2:
DeFalco – 278
Game 3:
Kolessides – 267
Bailey – 253
Under 180 Average Division
Game 1:
Salvacion – 218
Hansen – 216
Game 2:
A J Simpson – 207
Game 3:
Quincy Johnson – 240
Dunseath – 221