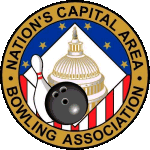 Welcome to The NCABA's JavaBOWL-II, multiplayer bowling game.

You have about a minute to put on your goofy shoes, while I load the sound effects. Get ready for the first 'in-your-face' java bowling experience. And you don't have to drive to your local bowling alley to get it.

YOU MUST HAVE A JAVA ENABLED BROWSER TO PLAY JavaBOWL-II
If the animation on your browser seems slow, try turning off sounds for improved gameplay. If you are losing control of the ball, try a lower backswing and concentrate more on placement and accuracy.

Higher Backswing produces more pin action but harder to control. Lower Backswing produces less pin action but easier to control.



---
---
---
REMEMBER!!! When you finish the tenth frame, make sure you click on the RECORDS button or your score will not be saved. All you need to do is break 100 for either Singles or Doubles!!! That's just an average of 50 pins per game for the Doubles to get on the 'board'. There is more information in the GUIDE to help you score higher.
---
---
NEW!!! JavaBOWL-II DAILY Singles Records

NEW!!! JavaBOWL-II DAILY Doubles Records

Back to NCABA Home Page