Funeral services set for Michael Tinsley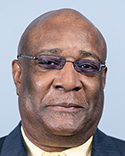 July 16, 2020 — A graveside service will be held Sunday afternoon for President Michael Tinsley, who died July 15. The service will begin at 2 p.m. at Forest Hill Cemetery on Lakeside Drive in Lynchburg, Va.
Cards and flowers can be sent to Miller's Funeral Home, located at 668 Zion Road, Gretna, Va. 24557 (phone: 434/656-1243).
President Michael Tinsley dies
July 15, 2020 — The NCAUSBCA office sadly announces the passing overnight of President Michael Tinsley of Seat Pleasant, Md. He was 70.
Tinsley was elected an association director at the 2012 Annual Membership Meeting and became fifth vice president in 2015. He successfully ran for president at the 2018 Annual Meeting and was reelected for a second term this past February. Just last evening, he appeared at an Executive Committee Meeting at the association office to prepare for the 2020-2021 season.
He bowled in the New Generation league at AMF Marlow Heights and the Thursday Trios at Potomac Lanes in addition to being a frequent participant in local, state, and national tournaments. For the past four seasons, he served as manager of the NCAUSBCA Senior Tournament.