Services announced for Dwight Franklin
February 18, 2020 — Services have been announced for Third Vice President Dwight Franklin, who died February 12, 2020.
The viewing starts at 10 a.m. on Friday, Feburary 21 at the Simpson Hamline United Methodist Church, located at 4501 16th Street NW in Washington, D.C. The service begins at 11 a.m., with burial at Fort Lincoln Cemetery.
---
Vice President Dwight Franklin dies
February 13, 2020 — NCAUSBCA has been advised of the death yesterday morning of Third Vice President Dwight Franklin of Largo, Md. He was 70.
Franklin joined the association board as a director in 2013 and became a vice president last year. While on the Technology Committee, he helped save the association thousands of dollars by bringing into the office functioning computers as well as heavy-duty printers that had been discarded by companies he serviced. When he wasn't bowling, he often was seen at NCAUSBCA tournaments running the brackets table.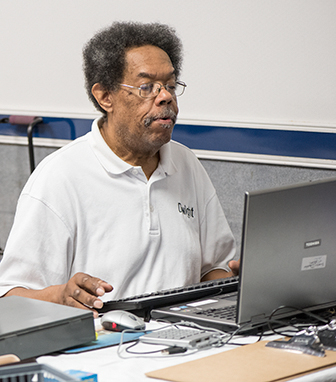 As a lane representative, he traveled to various centers to offer support to leagues.
This season, he bowled in the Rinaldi's Mixed 5's at Riverdale Bowl (in which he was league president), the Tuesday Night Men's at The Lanes Fort Meade, and the Washington Gas Mixed at Bowl America Shirley.
Additional information will be released as it becomes available.




Earlier postings