Hall of Famer Fred Trace dies
July 24, 2019 — Hall of Fame member Fred L. Trace died July 18, 2019 at age 78.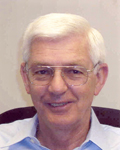 Fred began his coaching career in 1978 at then-Fair Lanes Dale City, where he also served as a youth league coordinator. In 1993, Fred became a board member of the Vir-Mar District YABA and served as the organization's third vice president. He also served as tournament director of the association's Youth City Tournament from 1994 to 2005 and chaired the Youth Awards Committee from 1996 to 2006. He was an NCAUSBCA youth director in 2006-2007.
Fred was a member of the NCAUSBCA Hall of Fame "Class of 2007."
A memorial service will be held Monday, August 12 from 6 to 8 p.m. at the Mountcastle Turch Funeral Home and Crematory, located at 4143 Dale Boulevard in Dale City. Burial services will take place the following day at 10 a.m. at Quantico National Cemetery, 18424 Joplin Road in Triangle, Va.
HALL OF FAME BIO
Earlier postings