NFL meets USBC at the Super Bowl
By Richard Kolb
Memories of Super Bowls and the NFL were shared with fans and former players highlighted by thoughts of charity for both in the Fourth Annual NFL Charities Super Bowl Celebrity Bowling Classic presented by Strike Ten through the USBC.
Lynn Swann, the Hall of Famer who starred in all four of the Pittsburgh Steelers Super Bowl victories in the 1970s, led off the opening ceremonies of this tournament in Tampa as he did in Super Bowl XLIII three nights later.
Darrell Green, who is the newest member of the NFL Hall of Fame, said the Tampa tournament was his first.
"I was late for the dance because I just found out about this tournament recently and I'm glad to be part of making money for our charities," Green, who hopes to join his NFL colleagues on Dancing with the Stars someday said. "These people are from all over the place in football and bowling, and I was glad to meet Chris Barnes, who is a champion in his sport. I have so many memories from playing for the Redskins in 20 years, but winning the Super Bowl is most memorable."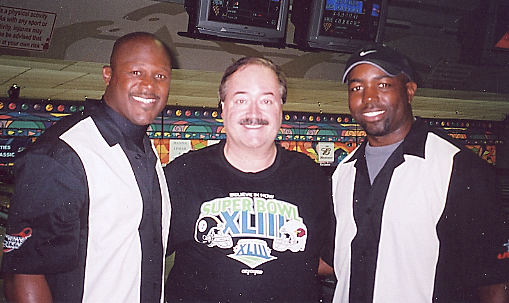 Author Richard Kolb (center) with former NFL players Ricky Reynolds (left) and Donny Abraham.


Barnes' wife Lynda, who is the other half of their winning bowling combo, said the Super Bowl Celebrity Classic reminded her of the PBA's 50th Anniversary Celebration Tournament of Champions in Las Vegas she attended a week earlier but this time it was the nostalgia of the NFL.
"The best bowlers in the world were there like some of the best football players are here and to have those guys who created the PBA tell us we are good bowlers and they recognize us that way, it doesn't get any better," Barnes beamed. "That's bowling - the history and the legends were all there. Harry Smith and Mike McGrath were sitting around telling us bowling stories of their glory days and of course Bruce Springsteen will sing it here at the Super Bowl halftime. As far as Earl Anthony being number one, you could go both ways on that because Walter Ray is a fantastic bowler and so was Earl and it's hard to judge because one was a lefty and one was a righty."
Barnes said she had a memorable two weeks in Las Vegas and Tampa Bay.
"Since we don't have a pure women's tour anymore, it was fun to pal around with Betty Morris, Robin Romeo, Wendy Macpherson, and Carolyn Dorin-Ballard, and I look forward to reading Betty's comments in Bowling World (February issue) where I used to work. It was a blast to talk with Marshall Holman and Mark Roth, and I was like a kid asking for their autographs like the football players here, they were legends of the game."
Former Houston Oiler and Atlanta Falcon great Billy "White Shoes" Johnson blew Barnes away with his autographed pin.
"When Billy White Shoes told me to go get my bowlin' ball for his autograph, I could hear my father in Heaven saying 'you get your ball right now and have my favorite player sign it'".
Lynda enjoyed having Lynn Swann host the Clash of Champions as much as he enjoyed covering her as the overall winner.
"Lynn Swann asked me the most intelligent questions about bowling when he was a commentator for us on CBS when I won the Class of the Champions and I was thrilled that a man of his caliber would be so interested in me and bowling and was so impressed that I beat a man," Barnes concluded.
Swann hosted the opening ceremonies of the Super Bowl and found the Steelers versus the Cardinals was appropriate as he recalled his most memorable super memories.
"Winning those Super Bowls with the Steelers and playing in two Rose Bowls in my college years and winning a national championship exudes all sorts of memories and it's hard to pick one," Swann said. "But the most memorable moment for me was being elected to the NFL Hall of Fame in 2001 here in Tampa. That's a great memory.
"This is the fourth bowling event for NFL Charities and the BPAA," Swann continued. "My greatest bowling experience was being part of the broadcast team for Clash of the Champions last year on CBS. The champions of various Bowling events of men and women came together and they had a bowl-off in a match play event and then Lynda Barnes won the championship as the first woman to beat a man in head-to-head competition so that was my greatest bowling experience. When Jerome "The Bus" Bettis bowled a 300 in competition, I thought that was really good until I found out that Lynda's husband Chris Barnes bowled 76 of them and then I thought 'well, it's not so special after all."
Swann has many moments to remember as a commentator for ABC's "Monday Night Football."
"There were a lot of great things I was involved with on Monday Night Football. Doing the national collegiate championships for seven consecutive years with ABC Sports and covering the Olympics for them with the Iditarod and the coverage in China and Australia around the world was rewarding for me."
Former Buccaneer Tony Mayberry helped his former teammate Mike Alstott organize a team of inner-city kids to play a game against singer-entertainer Snoop Dog's team at a local Tampa Bay high school known as the Snoop Bowl played yearly during Super Bowl week.
"It's something productive for 12-year-olds to do and it's a great experience for them to participate in an actual football game during Super Bowl week," Mayberry said.
Former Super Bowl Champion quarterback Doug Williams found the children's portion of the Super Bowl Celebrity Bowling Classic to be as beneficial for kids as the Snoop Bowl.
"I had a little girl come up to me to announce that she bowled three strikes in a row and really enjoyed it," Williams said. "I give the credit to the YES Center since they give the kids a chance to be in their own tournament."
The NFLPA has a movement led by former Bears and Saints coach and ESPN analyst Mike Ditka that more funding is needed to supplement the health of former players who have permanent effects from injuries such as concussions. Many of those players are from the era when they did not command huge salaries or retirement the way current athletes do and often don't have the money for proper treatment for ailments from the lingering effects of concussions and other player injuries.
"I'm sure it's a problem in the NFL which needs to be addressed," Williams said. "It's a shame what happened to former Buccaneer Tom McHale if he overdosed on medication because of his concussions. I was lucky because I never had one myself."
Williams as the new personnel director of the Bucs is enthusiastic about their new coach Raheem Morris.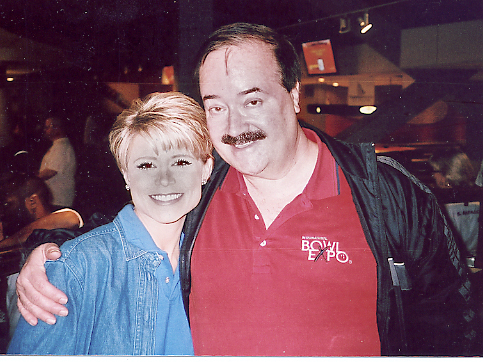 Kolb with ABC-TV anchorwoman Wendy Ryan


"I don't want to say Monte's defense because Raheem was a part of the staff but he has to put together his own defense because Monte's gone," Williams said. "You have to say it's Raheem's team and move forward. He was an assistant to Mike Tomlin of the Steelers but Mike coaches his team one way and Raheem will coach the Bucs his way so I don't see the similarities because the personnel of the team is different. They have to be their own man because they're in two different worlds."
Williams claimed being the first black quarterback to win a Super Bowl was not the most memorable moment in his career but instead it was an event in the NFL which happened nine years before that time.
"I've been fortunate to have a few memories. The Super Bowl win stands out because of the visibility and the notoriety it gets, but being here in Tampa back in 1979 and beating the Philadelphia Eagles for our first playoff game win was a very big memory in my mind, so I've got some big ones. At the end of the day, the Super Bowl always stands out."
Williams commented that former Bucs starting quarterback Jeff Garcia will not be returning to the team next season since they want to go in another direction with Luke McCown or Brian Griese. The good news for football and especially 49ers fans is Jeff may be returning to San Francisco where he began his NFL career.
Former Eagles player Keith Beyers, who was Garcia's teammate when he backed up an injured Donovan McNabb, thinks the Philadelphia starter should remain with the team in spite of losing the NFC Championship to the Cardinals this past season, allowing the Arizona Cardinals to go to Super Bowl XLIII in Tampa and lose to the Pittsburgh Steelers 27-23.
"I think Donovan should stay right where he is and start again for the Eagles next year and finish his mission to get the Eagles back to the Super Bowl and win it this time," Beyers said. "Your cousin Kevin will have to wait his turn."
Roger Worley was a wide receiver for the Cardinals in the 1970s and 80s when they were in St. Louis before the franchise moved to Phoenix. He said those Cardinals had many similarities to the current team.
"The cast of Cardinals I played for featured Jim Hart at quarterback and he was an effective passer with a quick release and a playmaker similar in approach to Kurt Warner," Worley said. "I was his wide receiver similar to Larry Fitzgerald but I was not as fast because he can really fly. The reason why we didn't make it to the Super Bowl was because our Cardinals had much tougher competition in our division than the team does now. Back then the Cowboys, Redskins, Giants and Eagles usually had winning records and were regulars in the playoffs and sometimes the Super Bowl."
To read more about the NFL and their charities, see NFLPA.com.