McGregor elected president for 2003-2004;
delegates say "no" to SMO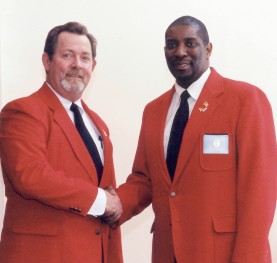 Ronald McGregor (at right, with President Steve Graves) of Temple Hills was elected president of the Nation's Capital Area Bowling for the 2003-2004 season by delegates at the 59th annual NCABA Council of Delegates Meeting Feb. 23 at The Willow Tree Inn in Montgomery Village, Md.
Other current vice presidents advancing via delegate vote included Bill Grover of Burke, who will become first vice president on Aug. 1, 2003; Kirk Williams of District Heights, second vice president; Gene O. Mays of the District, third vice president; and Scott Gielda of Columbia, Md., fourth vice president.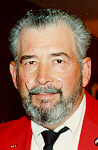 In the race for fifth vice president, Larry "Bud" Smith (right) of Dunkirk, Md., defeated Michael Coleman of Manassas.
The delegates, who represented 68 leagues and 638 votes, also elected directors for two-year terms ending July 31, 2005.
Fred Bevenour of Silver Spring, who earlier served as a director, and Willmundo Marchanyvalentin of Bethesda were elected directors, as were incumbents Richard Anderson of Waldorf, Robert Ashley of Centreville, Timothy Bailey Sr. of Reston, Harrold Capps of Wheaton, Noel Dysart of Silver Spring, David Gregg of Gaithersburg, Terry Holloway of Fredericksburg, Carl Kilby Sr. of Chantilly, Harry Kline of Centreville, Robert Lemon Jr. of Hagerstown, Md., Robert Lewis of Bethesda, Darron Mayes of Fort Washington, and Kenneth Scott of Crofton.
The proposed Single Membership Organization (SMO), which would combine the American Bowling Congress, the Women's International Bowling Congress, the Young American Bowling Alliance, and U.S. Bowling into one organization—the United States Bowling Congress—was the major issue at the meeting.
Past President Tom Dale Jr., who attended as a delegate, removed his NCABA red jacket, donned his ABC director-at-large nameplate, and presented the case for SMO from ABC's perspective. He noted that the overall streamlining—"You'll have one set of decision makers for the sport of bowling rather than four sets"—will result in cost savings of approximately $1.5 million in salaries "just at the top." Travel costs, as well as those related to the reduction of duplication of efforts and redundancy in meetings, also will drop precipitously, Dale said.
Ronald McGregor then listed the "most troubling items, not in any order of priority" that ultimately resulted in the NCABA board voting to reject SMO at its morning meeting:

The potential increase in dues without the ability to say anything about it after 2007.
A loss of membership due to the price of bowling and by centers closing—not necessarily because NCABA can't provide proper services.
The SMO legislative document has to be voted on (March 14 at the ABC Convention in Knoxville, Tenn.) as is, with no changes whatsoever.
Current uncertainties regarding the general consensus towards SMO by the 10 largest associations. "We need we feel to solicit some of their views. Ultimately, it's what you think, what's best for you, but it's nice to know what direction others are going."
The fear of mergers. "There's a trust issue that has to be involved. We went to the Whistle Stop meeting [Jan. 19 in White Marsh, Md.], and to a lot of the questions that came up, all we heard was 'Trust us. We'll make it right.'"
Grady Culpepper, delegate for the DNA/Mixed Keglers league at Alexandria, thought SMO a "great idea," but he questioned the method of its development.
"A good builder builds his house on a firm foundation," Culpepper told the delegation. "As is said, A wise man builds his house upon a rock, and a foolish man builds his house upon the sand. Now what is the rock? The rock is the local associations who have been fighting things, who have been making improvements, who know what is needed at the top to make the system work. So I think the idea of starting at the top and pushing things down was not the way to do it. I think [SMO] is needed, and what I suggest if we vote 'no' is don't vote 'no' without saying what we think is the right way to do it."
A majority of delegates loudly applauded Culpepper's comments and later confirmed their position with a 432-202 vote against SMO.
In other news from the meeting:

President Steve Graves of Silver Spring was voted a life membership for his dedicated service to the association and its members.
Mark Bennett of Germantown was named NCABA Director of the Year by the Past Presidents Committee.
Victor Farkas of Dale City, a member of the Dale City Monday Men's Commercial league at Woodbridge, was selected NCABA Secretary of the Year and received a plaque and jacket noting the honor.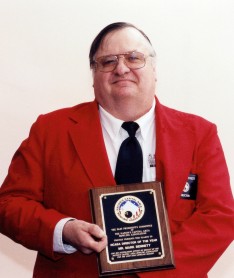 Director of the Year
Mark Bennett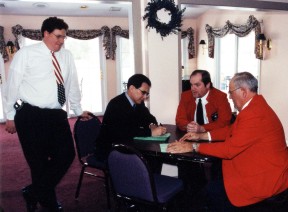 Director Mike Sinek (standing)
observes the ballot counting
by (from left)
Delegate Nick Ruiz,
Director Lee Johnson,
and Past President Ron Dailey.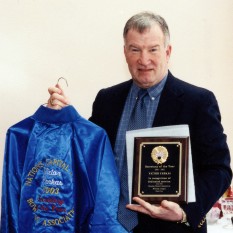 Secretary of the Year
Vic Farkas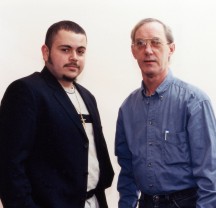 Directors-elect
Willmundo Marchanyvalentin (left)
and Fred Bevenour
Earlier postings